The Backstory –
My taste for flavorful beers started in Denver in college when about the only way to find flavorful beers was to try various imported styles. Luckily there was a liquor store near campus that had a large selection of unique beers and I tried sampling them all! My wife Lori and I moved to Seattle, for jobs, in 1988 when the craft beer scene was emerging and I started home brewing a couple of years later.
I was soon hooked on my new hobby and brewed just about every weekend. My day job at the time was working in insurance. I travelled around the country for my job and one of the things I liked doing was finding local breweries and brewpubs to taste their beers and check out the operations. I found it was a great way to taste great beers, great food and meet great people.
Lori and I also were able to travel to the U.K and Ireland for vacation where we enjoyed golfing, sight seeing, and of course beer tasting. We developed a love of the many ales available including cask or "real ale".
We moved from Seattle to Mount Vernon in 1997 and I continued my hobby in the basement of our new house. I was finally ready for a change from the insurance business and in 2009 we bought a commercial building in west Mount Vernon. We found some used brewing equipment in Anaconda, Montana from the Rocky Mountain Brewing Co. that sadly suffered from some unscrupulous business partners and didn't survive. The brewing equipment was packed-up and shipped to Mount Vernon. A crew was hired, installation and construction work continued and in the Summer of 2010 we finally got our license! The first batch we brewed was our Big Bend Blonde Ale. ( Named after the big bend in the Skagit River adjacent to the brewery location).
On August 27, 2010 North Sound Brewing Co. sold our first kegs of beer to 3 local pubs in downtown Mount Vernon, The Porterhouse, Trumpeter Public House, and Empire Ale, and the following Friday September 3, 2010 the tasting room at the brewery opened. I had realized my dream! We continue to brew a variety of ales and we have a lot of fun doing it. Cheers!
Meet The Northsound Team!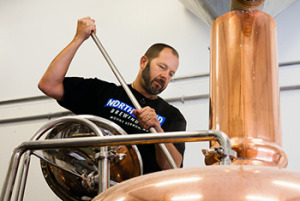 Rob Kent – Brewer/Brewery Manager
A retired Navy Chief Petty Officer and passionate lover of great beer, Rob has been our Head Brewer since November 2013. He continues the tradition of brewing our classic line-up of beers and has created some new customer favorites. Using classic brewing techniques as well as a few un-conventional ones, he brings to you the fine North Sound brews you have come to expect.  His favorite North Sound beers are the Hopsolute IPA, Goosetown Brown, and the myriad flavor-infused beers he has created, such as Tangarillo Wheat and Mango-Chile IPA.  Rob brings a positive and motivating attitude to the brewery and a warm, friendly vibe to Tasting Room, helping to create an atmosphere that is welcoming and hospitable.  He is always ready and willing to chat and answer your questions.
Sarah Meagher – Assistant Brewer/Beertender

Sarah graduated from Central Washington with a Law & Justice major. Outside of working the taproom and being our Assistant Brewer, she works at the WSU Research Station where she tests soils for diseases as well as plants and harvests crops for a farm on Whidbey Island. All about local! Her favorite North Sound beers are the HopSolute IPA, Slainte Stout, and Hop Saw IPA. Don't hesitate to strike up a conversation!